What's On the Easel
This is what I'm working on right now. What you are viewing is commonly called "work in progress." The multiple images show the stages of how the painting is conceived, drawn, then painted. This page is continually updated as the painting progresses. The final piece will appear in the Gallery section.
Commissioned pieces are welcomed. Inquire via e-mail for further information.
All paintings and images throughout this website are copyright protected.
---
Back on the easel is a new WIP
"MOUNTAIN MORNING" is 12"w x 24"h in gouache with silver and copper metallic gouache details: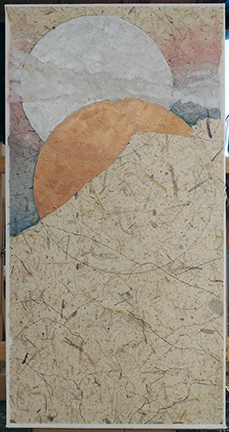 ---
FINISHED!
"LIVE OAK" triptych in gouache on rice paper mounted to canvas
24"h x 38"w