What's On the Easel
This is what I'm working on right now. What you are viewing is commonly called "work in progress." The multiple images show the stages of how the painting is conceived, drawn, then painted. This page is continually updated as the painting progresses. The final piece will appear in the Gallery section.
Commissioned pieces are welcomed. Inquire via e-mail for further information.
All paintings and images throughout this website are copyright protected.
---
Finished works ready to take to the art shows. Details on each painting may be read in the Gallery section.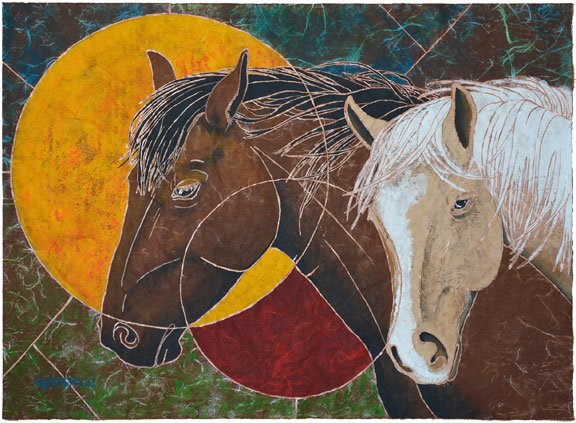 ---
Pastel is also on the easel from time to time. During the month of November, we took a side trip down to Ruidoso for a weekend. The area we stayed in was so beautiful; hiking trails were right behind our campsite. The landscape inspired me to create this painting in pastel on Ampersand pastel board. It is 16" x 20" unframed...for now.
---
WIP (Work in Progress)
This piece was started as a demonstration during the Las Artistas Art Festival in El Paso (TX).

It is 12" x 24" gouache on rice paper that has been mounted to canvas. The image is from the "Outside My Window" series and features the view Northeast from my studio. I have painted this image several times, as it never ceases to interest me. Each season brings a different set of colors, images and ever-changing skies.

As the painting progresses, the mesas take shape, and become more defined with the sunlight. The dark trees in the foreground are not quite that dark as in this photo. More metallic lines will help define the foreground trees. Soon, it will be complete.
Here is the finished painting, aonther in the Outside My Window series, titled "Looking East"
goauche on rice paper mounted to canvas 12" x 24"
---
"A Certain Kind of Heaven"

The cloud formations over the Sangre de Cristo mountains are an amazing site from my studio window. This is another from the "Outside My Window" series, which continues to be a favorite subject for my work. Ever changing, ever beautiful, the high desert landscape fascinates me.
24" wide x 16" high
gouache on rice paper mounted to individual canvas panels with silver and gold gouache details