What's On the Easel
This is what I'm working on right now. What you are viewing is commonly called "work in progress." The multiple images show the stages of how the painting is conceived, drawn, then painted. This page is continually updated as the painting progresses. The final piece will appear in the Gallery section.
Commissioned pieces are welcomed. Inquire via e-mail for further information.
All paintings and images throughout this website are copyright protected.
---
Fresh off the easel, this time, working in pastel. This new painting is finallyready for framing.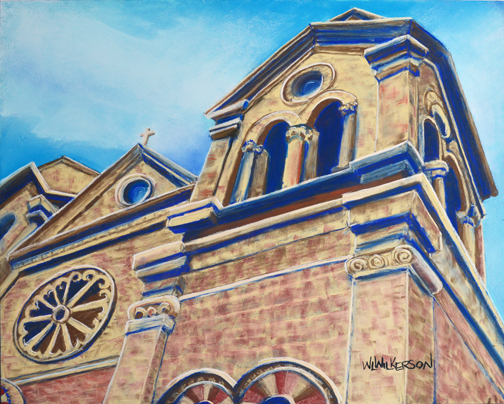 "CATHEDRAL BASILICA"
from this unique perspective, is based on the Basilica here in Santa Fe, commonly known as the Saint Francis Cathedral, and is the Archdiocses of Santa Fe. The Cathedral was built by Archbishop Jean Baptiste Lamy between 1869 and 1886, and is on the site of an older church, La Parroquia, built between 1714 to 1717.
Finished size: 24"w x 20"h soft pastel on board
---
I am so honored that my pastel painting "COTTONWOOD" was accepted into the 2019 Masterworks Show: