What's On the Easel
This is what I'm working on right now. What you are viewing is commonly called "work in progress." The multiple images show the stages of how the painting is conceived, drawn, then painted. This page is continually updated as the painting progresses. The final piece will appear in the Gallery section.
Commissioned pieces are welcomed. Inquire via e-mail for further information.
All paintings and images throughout this website are copyright protected.
---
Fresh off the easel, two new paintings are ready!
"THROUGH THE MIST"
is based on the monsoon season here in the high desert, where every day at 4pm it rains in the months of July, August and into September. The desert comes alive with flowers and grasses, and all wildlife rejoices in the mist.
Framed: 37"w x 27"h gouache on rice paper with silver and gold metallic gouache details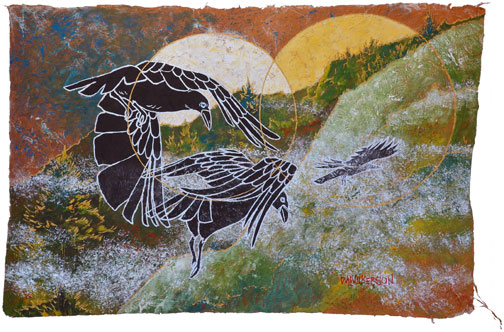 "STROLLING"
is from a photograph I took of this beautiful crane down in the Bosque just outside of Socorro NM. This is a migratory path for thousands of cranes and snow geese as they fly across North America. In the Fall of each year, The Festival of the Cranes is a major event, inviting millions of photograhers to celebrate these beautiful creatures. This will be a series of paintings. "Strolling" is the first in the series.
Framed: 20"w x 16"h gouache on rice paper with silver and gold metallic gouache details.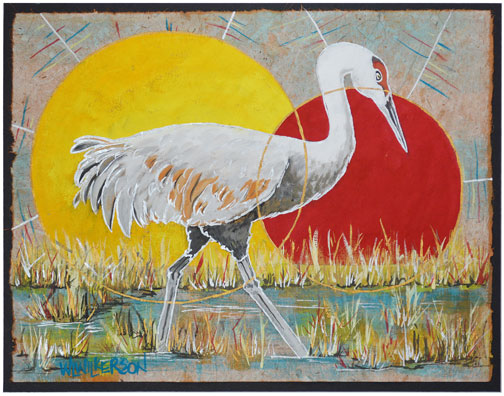 This original gouache painting has SOLD. Giclées of this painting are available.
---