What's On the Easel
This is what I'm working on right now. What you are viewing is commonly called "work in progress." The multiple images show the stages of how the painting is conceived, drawn, then painted. This page is continually updated as the painting progresses. The final piece will appear in the Gallery section.
Commissioned pieces are welcomed. Inquire via e-mail for further information.
All paintings and images throughout this website are copyright protected.
---
March 2013
March... MARCH?! What happened to February? Obviously, I have been busy to have missed February. The studio is well under construction (still) and that is what happened to February.
Anyway, the first Artist in Residency took place March 1-2 at the Inn and Spa at Loretto in Santa Fe (NM). Two days of concentrated painting allowed me to produce two new paintings. One, a triptych, depicts the mesa wall that protects my house, and the other, a diptych, is of a beautiful old tree here in Santa Fe. Both are varnished, framed, and available for purchase.
I
returned to Loretto March 21 for a second productive Artist in Residency day. This is becoming a wonderful venue and place to paint while waiting for my house to be completed. I am enjoying meeting the guests and talking about art and my paintings. This painting,
"Sit with Me" was the focus of that day.
"Sit with Me" is a triptych of gouache on rice paper mounted to canvas and measures 24" x 48". It will be framed in an antique silver floating frame, available for purchase. The painting reflects a beautiful old cottonwood tree that hangs over the Santa Fe river. It's beautiful old branches offer the perfect place to sit, reflect and enjoy the passings by along the river park walk.
---
January 2013
It's a new year, new work, and a new schedule for shows. The first event is the Artist in Residency Program at the Inn and Spa at Loretto. I am honored to be the featured artist February 1-2 from 10am to 4pm both days.
I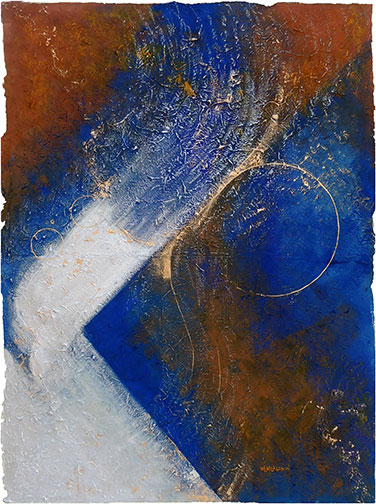 also continue to explore a more abstract painting style. This painting, titled When Worlds Collide, pushes materials, gounds and imagery further. The contract colors of blues and earth tones gives the basis of the silver and gold as the colors collide and reshape the image before you. The larger image is available for viewing in the Gallery.