What's On the Easel
This is what I'm working on right now. What you are viewing is commonly called "work in progress." The multiple images show the stages of how the painting is conceived, drawn, then painted. This page is continually updated as the painting progresses. The final piece will appear in the Gallery section.
Commissioned pieces are welcomed. Inquire via e-mail for further information.
All paintings and images throughout this website are copyright protected.
---
On the dusty easel, a WIP slated for the Masterworks Exhibition
9"h x 12"w pastel on watercolor paper
still some further work to soften areas and receed others. I'm pleased with where this is going
---
Back to work...and LARGE!
Each panel is 40"h x 30"w with a overall width of 96"
Gouache on rice paper, mounted to canvas
"INCOMING" is a triptych of 3 canvas panels, each measuring 40"h x 30"w, to which rice paper has been mounted. This paper has leaves embedded into it, giving it a unique texture that adds to the oveall image. The paper has been pieced together, as the canvas is much larger than a full sheet of the rice paper. This, too, adds to the effect.
Just about finished! Some minor tweeking, but I'm statified with these results.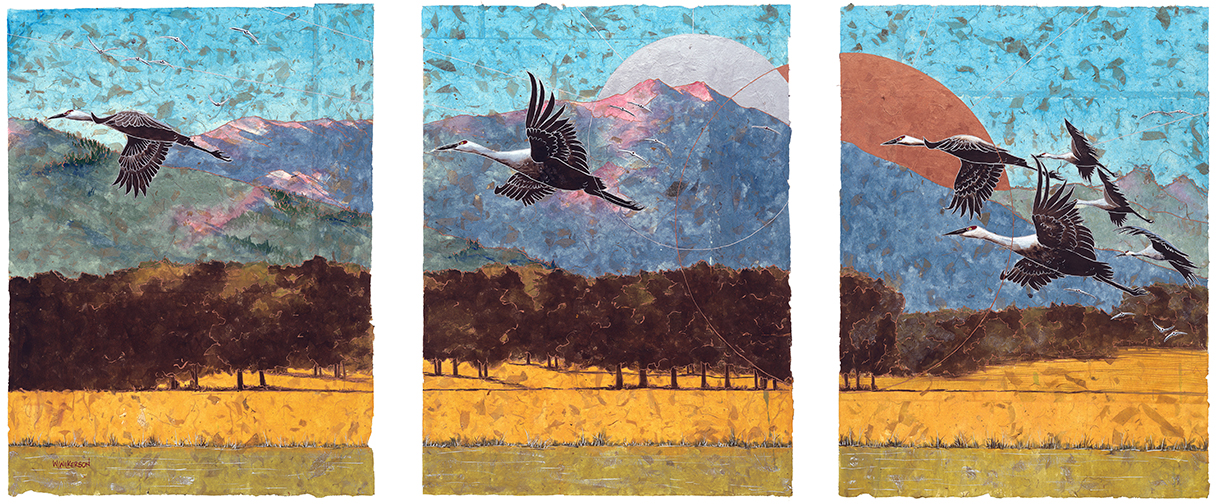 ---
WIP GOUACHE PAINTING ON THE EASEL
While Fitha cools down, I can return to working on the easel in my signature painting with gouache. This is the next work in the Sandhill Crane series from the Bosque area along the Rio Grande in New Mexico.
---
SCULPTURAL WALL TILES
Always learning, always pushing our creative abilities, we are working on a series of bas relief wall tiles. Here are test tiles to understand how the clay, glazing and the various firings of our kiln, "FITHA" reacts.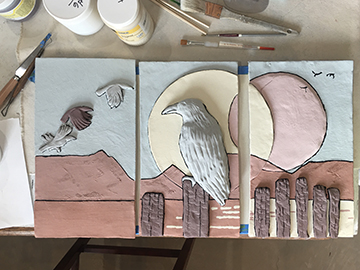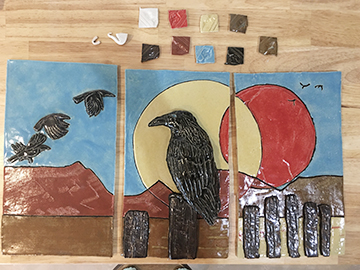 ---
NEW MEDIUM!
Clay has always been an amazing medium to me. Working with earth elements is very grounding, satisfying, and enriching. And so, Bob & I are creating sculptural ceramic tiles.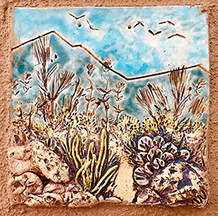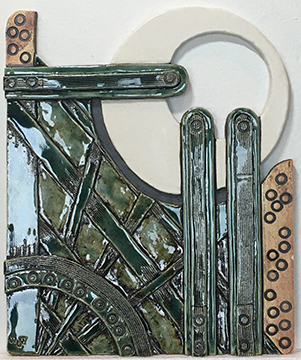 These are hand-built tiles based on one of my gouache paintings or of Bob's wood carvings. Each tile is an original piece of art and is created and fired in our studios. They can be permanently mounted to an outside wall or fence, or hung inside your home. We will also create commissioned pieces of your concept. Contact us directly if you are interested in this new work.
---
My Personal PleinAire Challenge
I rarely work out in the wide open spaces; I'm too much of a studio artist. The demands of working outside tax my abilities, patience and attention. There are bugs; I need a drink of water; I now need to go to the bathroom; and now, the wind just blew my entire setup over into the grass/sand/mud.
So, I decided I've whined enough and I just need to do it!
The setup:

In progress:

And the finished painting:
" Navajo Rosa Loop" 12'h x 9'w soft pastel on watercolor paper

---
FINISHED!
"Nuestra Senora de Guadalupe is an historic church in Glorieta. Adobe is a real challenge to paint.
Below the finished image are the WIPs of this painting.
---
Working again on the dusty easel, an old adobe church, the Nuestra Senora de Guadalupe, is 18"h x 24"w in soft pastel on Ampersand board. The simplicity of the building against the blue skies of New Mexico captured my attention.

Working on the back hillside, the rocks and tree tops catch the light:
Working on the adobe...this is hard!
Pulling it all together...this needs to sit for a few days, so I can see what adjustments it might need. I'm pleased with this so far, especially the effect on the adobe.
---
New WIP on the easel from the Outside My Window series:
Progression on a large format gouache on rice paper mounted to canvas (triptych)
Each panel is 15"w x 60"h with a 6" space between panels to give the illusion of a 3-panel window
FINISHED! and installed
---
WIP in soft pastel on sanded watercolor paper progression (reference photo courtesy of Mark Stonebraker):
Here is the finished painting: "ABANDONED" 9"h x 12"w soft pastel on sanded watercolor paper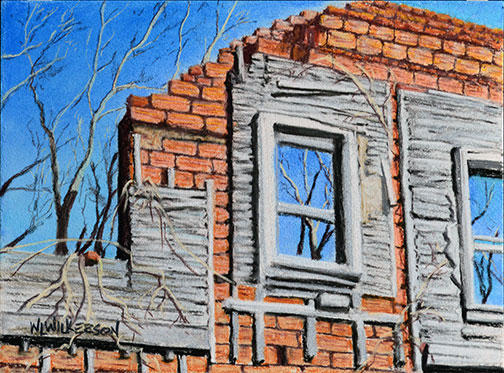 ---
Fresh off the easel:
Two new Sandhill Crane paintings from the Bosque Series are waiting for final varnish:
"BOSQUE AFTERNOON"
24"w x 12"h gouache on rice paper with silver and copper metallic gouache details, mounted to canvas
'EVENING FLIGHT
"12'w x 24"h gouache on rice paper with silver and copper metallic gouache details, mounted to canvas
---
"HIDDEN LAKE" is a triptych in gouache on rice paper mounted to canvas
24" high x 38" wide with gold and silver metallic gouache details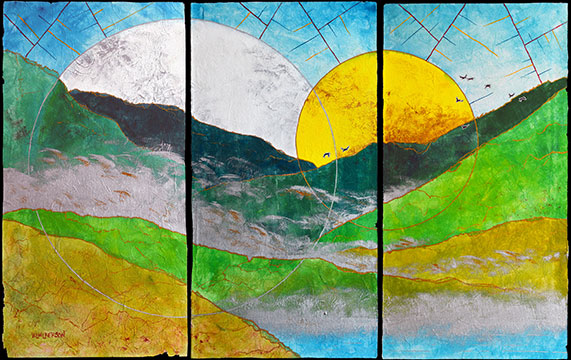 Three new gouache paintings:
"ASPEN GOLD" (already sold) • "SANDHILL DUO" (already sold) • "AS THE CROW FLIES" (available)
All are 12"w x 24"h in gouache with silver, copper, and/or gold metallic gouache details:
---
FINISHED!
"LIVE OAK" triptych in gouache on rice paper mounted to canvas
24"h x 38"w