---
2021 Juried Show Schedule is back on!!
MARCH

1 thru 31 For the Love of Art (FLOA) online exhibition only
6 thru 8 Arts Fair in Las Cruces NM CANCELLED

APRIL

1 thru 30 21st Annual Masterworks, Pastel Division online exhibition only
3 thru 5 21st Annual Masterworks, Watercolor online exhibition only

MAY

2 thru June 27 2021 NM Watercolor Society Spring Exhibition online exhibition only

JUNE

26 thru 28 Boston Mills Artfest in Penninsula OH CANCELLED

SEPTEMBER

4 & 5 2021 Summerfest in Evergreen CO IT'S A GO! YAY!

OCTOBER

2 & 3 8th Cheesman Art Festival in Denver CO
9 & 10 Wimberley Artfest in Wimberley TX POSTPONED
9 & 10 Sedona Arts Festival in Sedona AZ
---
PUBLISHED!
I am so honored to have an article on my gouache work published in the February 2021 edition of "Brushstrokes," the premier newsletter of the New Mexico Watercolor Society. You may download the entire newsletter in PDF, in which my article appears on Page 13.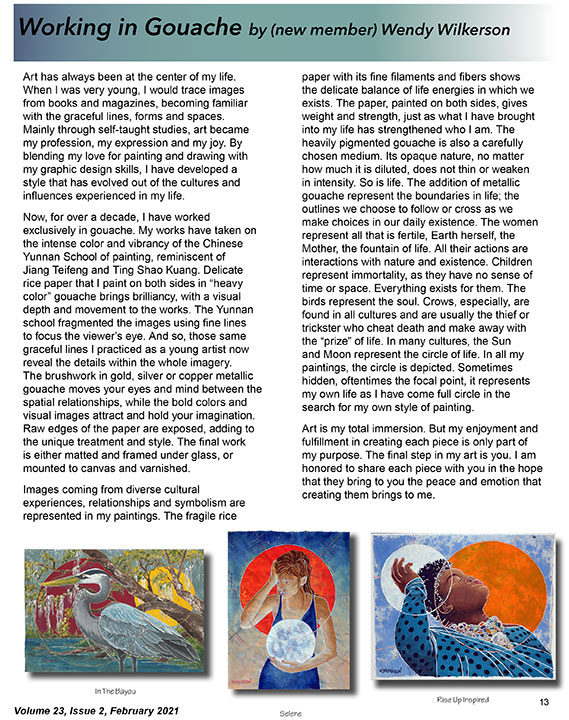 ---
2020 Juried Show Schedule ... a total bust ... well, except for Las Cruces
MARCH

6 thru 8 Arts Fair in Las Cruces NM

APRIL

3 thru 5 Spring Art Fair at Queeny Park
in Baldwin MO (St Louis)

CANCELLED

JUNE

26 thru 28 Boston Mills Artfest in Penninsula OH

POSTPONED

JULY

10 thru 12 Cain Park Arts Festival in Cleveland OH

POSTPONED

25 & 26 8th Cheesman Art Festival in Denver CO

POSTPONED

AUGUST

22 & 23 Fine Art Festival in Evergreen CO

CANCELLED

SEPTEMBER

8 & 9 Colorado Artfest in Castle Rock CO

CANCELLED

15 & 16 Durango Autumn Arts Festival in Durango CO

CANCELLED

26 & 27 22nd Annual Pecos Studio Tour in Pecos NM

CANCELLED

OCTOBER

2 & 3 Wimberley Artfest in Wimberley TX

CANCELLED