Welcome to Cicuye Studios, LLC
...the studios of nationally recognized artists creating fine art paintings and sculpture. Our passion for art has filled our life and vision.
Cicuye Studios, LLC are the working studios of the artist couple Wendy and Bob Wilkerson. The studios are open to the public by appointment while the two artists are working.
Wendy paints fine art similar to the Yunnan School using gouache on rice paper. She is known nationally for her vivid imagery full of symbolism.  She also creates realistic pastel paintings of life in New Mexico.
Bob's studio is the birthplace for several sculpture series.  Using wood, metal and glass in combination, Bob creates three-dimensional tributes to the history of America's native tribes and their spirits.
Art is always a work in progress.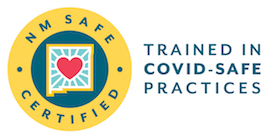 ---
For works in progress, visit the section On the Easel
Commissioned pieces welcomed – contact us directly to discuss your interests
---
Event Photography
From local officials to President, our experience in photography records professional images for your requirements:
Conventions
Legislative hearings
Meetings
Private forums
Portraits
All artwork and photographs on this website are copyright protected and cannot be used, downloaded or duplicated without written permission from the artist.